[Our Stories]2022 Korean Society of Laboratory Medicine International Conference (LMCE 2022 & KSLM 63rd Annual Meeting) Booth Participation
October 2022
2022 Korean Society of Laboratory Medicine International Conference (LMCE 2022 & KSLM 63rd Annual Meeting) Booth Participation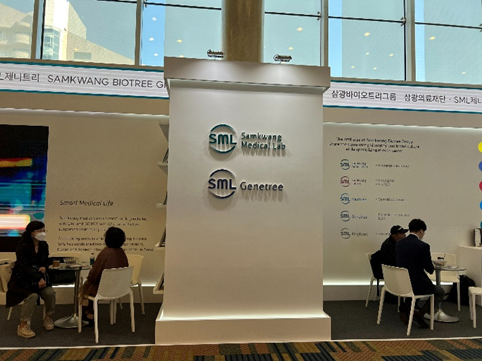 SML Genetree participated in the 2022 Korean Society of Laboratory Medicine International Conference (LMCE 2022 & KSLM 63rd Annual Meeting) together with Samkwang Medical Lab to promote Samkwang Biotree Group.
More than 2,000 participants from 16 countries attended LMCE 2022. LMCE is an academic event in which speakers attend and present topics on new value creation and vision for diagnostic testing through "big data" and AI technology. After being held offline at BEXCO in Busan in 2019, LMCE2022 was held live in person for the first time in three years. Samkwang Medical Lab participated as a platinum-level sponsor and attracted the attention of the participants with its inviting and informative booth design.
Since LMCE is an international convention, Samkwang Medical Lab provided information on tests such as M2BPGi, KL-6, anti-ENA, anti-DNA antibody screening tests, and oligomerized amyloid beta (OAβ) and introduced various test services. In particular, the Samkwang Medical Lab kit, which is used for OAβ testing (a biomarker for Alzheimer's disease) was featured.