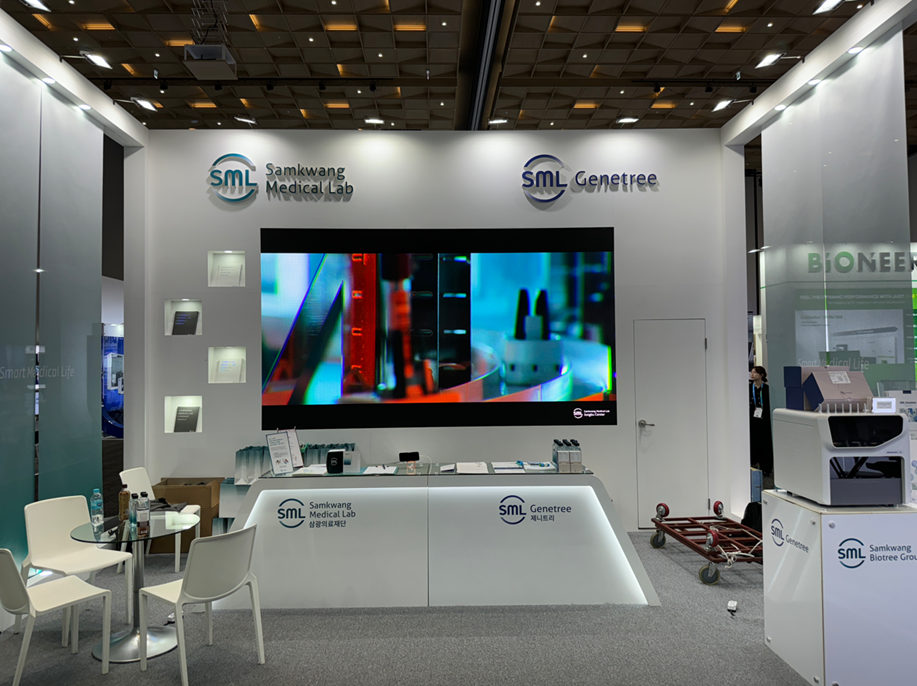 LMCE 2023 (Laboratory Medicine Congress & Exhibition) Samkwang Medical Foundation and SML Genetree Booth
Samkwang Medical Foundation (Chairman Taeguk Hwang) and SML Genetree (CEO Gyungjin Kim) jointly participated as Platinum Sponsors at the LMCE 2023, held at Suwon Convention Center from October 18th to 20th. They engaged in diverse commercial and academic activities, including exhibition booth and poster presentations during the conference.
During the conference, Samkwang Medical Foundation showcased various diagnostic tests at their booth, including BRCA1/2 gene mutation tests, Alzheimer's disease risk assessment blood tests, tuberculosis and rifampicin resistance tests, and HPV NGS Genotyping.
SML Genetree introduced new products such as the BKV Quantification Kit which detects BK Virus infection, the CMV Quantification Kit which detects Cytomegalovirus infection, and GI Bacteria 1, 2, 3 Kits which detect bacterial and viral gastrointestinal infections. They also introduced the GenetreEX™ 96 Nucleic Acid Extractor, a fully automated system capable of extracting nucleic acids[D1] from 96 samples simultaneously in approximately 30 minutes, along with the GenetreEX™ Viral TNA Kit.
In addition to booth exhibition, the clinical business team of Samkwang Medical Foundation presented research results in a poster session titled "Comparison of HPV Next-Generation Sequencing Genotyping Kit with Three HPV Multiplex Real-time Analysis Methods" during the conference. The study, led by clinical pathologist SooHyun Ji and specialist Hyoungnyoun Kim, aimed to compare the NGS typing kit for HPV viruses in cervical samples with three Multiplex Real-time PCR Kits. The results indicated that while the HPV NGS typing kit takes about one day longer for experimental results compared to the other three Multiplex Real-time PCR Kits and is relatively expensive due to the characteristics of NGS equipment, it has the advantage of detecting an additional 20.6% of genetic HPV types compared to the Multiplex Real-time PCR Kits.
Furthermore, Dr. Taehwan Lee from Samkwang Medical Foundation's Department of Laboratory Medicine achieved the honor of receiving the Excellent Paper Award from the Korean Society for Laboratory Medicine for his paper titled "Performance Evaluation of the Mindray BC-6200 Automated Hematology Analyzer: A Comparison with Sysmex XE-2100 and Manual Microscopic Method."
The LMCE 2023, organized by the Korean Society for Laboratory Medicine, focused on the theme of "Digital Transformation of Diagnostic Medicine: Quality Management in the Big Data Era," with 25 countries submitting over 400 abstracts. The conference attracted registrations from more than 2,500 diagnostic medicine experts from 30 countries, creating a vibrant atmosphere.
Taeguk Hwang, the Chairman of Samkwang Medical Foundation, stated, "I am pleased to successfully introduce Samkwang Medical Foundation and SML Genetree at this year's International Congress of the Korean Society for Laboratory Medicine." He added, "In the future, Samkwang Medical Foundation will continue to strive for customer satisfaction and contribute to the health and happiness of the nation through more research and academic exchanges in the field of diagnostic testing[D2] ."
Excerpted from 2023.10.23 // DongA// MinBeom Kim (mbkim@donga.com)
https://www.donga.com/news/It/article/all/20231023/121803507/1